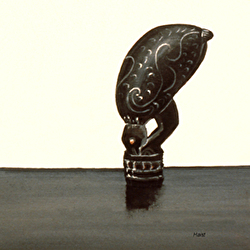 Ebony
This little painting has always been one of my personal favourites; the kind that becomes part of your life, fitting comfortably in the corners of your memory. And a memory it truly is.
While going through some archived slides of my work, some pieces long forgotten, this one struck a chord. I conservatively collect African sculptures and this small ebony carving of a bird was a delightful treasure. I made this painting of it many years ago, around 1980, and intended it to be part of my personal collection. It was for a couple of years until it was stolen from my studio along with the actual carving. The thief was never apprehended nor was the sculpture or painting ever recovered. It was a kind of a cruel compliment - that someone valued it enough to want it that much, but I would rather have given it away than it be taken without permission.
That was neither the first nor the last time my work went missing under those circumstances, and it was never easy to reconcile. It certainly was nice coming across the slide of this one, and perhaps I can have a print made.
All art has a story of its own to tell, and this one a bit more dramatic than usual.
To see a larger image of 'Ebony' click here.
a bientot,
til next time,
Diann
Comment on or Share this Article →
---