« Picking Blueberries | Main | Old Olive Farm »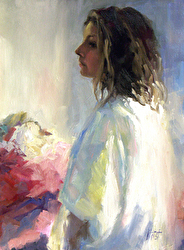 White Room 16"x12" oil Diann Haist
My favourite model is moving away. I confess to taking her presence for granted, and selfishly thought she would always be there and available when new inspiriation was needed in the studio. Pangs of loss set in so we scheduled a session for a whole day, my camera being the only 'sketching tool' because of time restrictions. The good news is that we managed to shoot 119 poses, many of which will be usable in future paintings. When I am next in need of her generosity of spirit and natural posing abilities, I will get on a plane!
Moral of the story - Change will always happen - never take your friends, family, resources, for granted.
'White Room' is the first from this session. To see it larger, click here.
a bientot,
til next time
Diann
Topics:
Latest Work
---
---
Comments