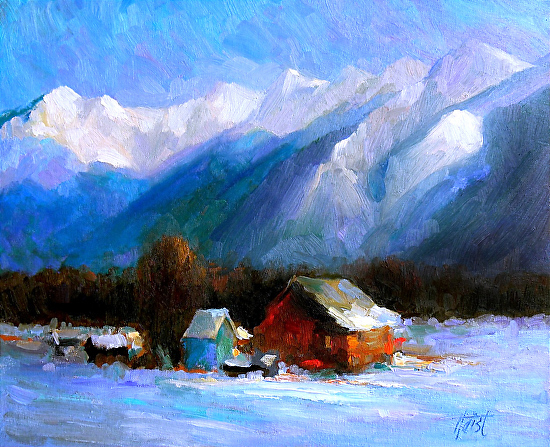 'Beneath The Mountain'
8" x 10"
giclee print on paper
Featured image for this week at Haist Gallery is 'Beneath The Mountain" 8"X 10". This beautiful open-edition fine art giclee print representing a log cabin in winter set against the Chugach Mountains of Alaska, comes matted and ready to be slipped into a standard size frame. Makes a great gift and only 5 left. Come in to the gallery or click
here
to purchase.

"I create to satisfy the interest and delight I enjoy in the world around me. A desire to give vision to the out of the ordinary; to cultivate inspiration in the viewers of my work is the motivation behind my chosen discipline." - Diann Haist 2 July, 2013
**********



The aim of the artist is to represent not the outward appearance of things, but their inward significance. (Aristotle)

A face is not well done, unless it shows a state of mind. (Leonardo Da Vinci)
Copyright Diann Haist 2013